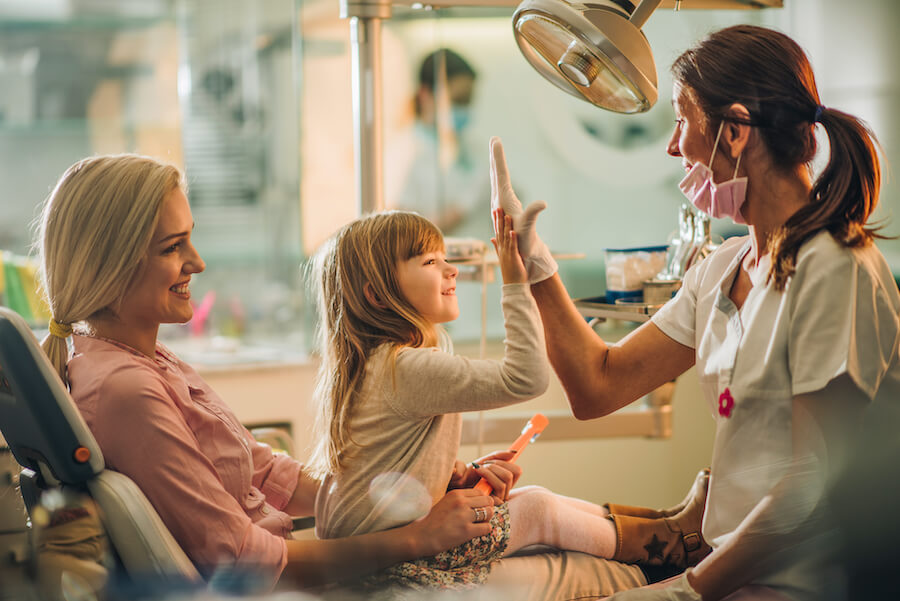 How to Help a Child Be Less Afraid of the Dentist
August 30, 2022 7:21 pm
---
Fear of the dentist occurs across all age groups. While we wish it wasn't the case, it's true that many people haven't been able to get the oral healthcare they need because of that anxiety and fear.
You may have noticed that your child gets upset at any talk of the dentist. They may cry, become extremely irritable, or shut down completely when it comes time for their dental visit. We understand it's hard for you to see your child so uncomfortable! If your child is scared of the dentist, there are a couple of things we recommend you try.
Play Pretend
Sometimes an imaginative game of pretend can really do the trick to help lessen your child's fear of the dentist. When you're at home in their safe space, act out the scene of a dentist's office with one of you playing the dentist and the other playing the patient. During this role play, you can give them a general idea of what kind of situations they might expect (like checking for cavities and cleaning their teeth) so that when the real thing happens, they've had practice with how it all goes so it seems a lot less frightening.
Keep Things Positive While Being Realistic
When you talk about your child's upcoming dental care, emphasize how their dental hygienist and dentist will help their teeth be clean and healthy. However, it can help kids to know that sitting in the dental chair and having the dental tools being in their mouth may be a little uncomfortable sometimes. If you tell them there won't be any sort of pain, and then something is uncomfortable during their visit, they may become more upset that they didn't expect it. Let them know that if anything becomes too uncomfortable, they can alert our team and we can stop what we're doing to give your child a break.
Read Books About the Dentist
There are many children's books about visiting the dentist. Check them out from the library to read them with your child. Some of our favorites are The Berenstain Bears Visit the Dentist by Stan & Jan Berenstain and Just Going to the Dentist by Mercer Mayer.
Gentle Dentist for Kids in Alvin, TX
At Magnolia Family Dental, we welcome patients of all ages. With our wide range of family-friendly services, we're able to help both adults and children achieve their very best smiles. Contact us today to set up an appointment at our comfortable office!
Categorised in: Dental Tips, Family Dental Care