Professional Teeth Whitening

in Alvin, TX!

Teeth whitening treatments are a quick and easy way to achieve a noticeably whiter smile. Our services are designed to help our patients achieve beautiful, natural-looking smiles that they can't wait to show off! To learn more about our teeth whitening services, we recommend getting in touch with our friendly front office team. Call our office today!
Contact Us
What are the advantages of professional teeth whitening over store-bought?
Professional teeth whitening offers several advantages over drugstore teeth whitening products. While one-size teeth whitening treatments that you can buy at the store do not come with any kind of guarantee, our team can work with you to determine the precise shade of white that will provide you with the results that you're looking for. Instead of trying to achieve a whiter smile on your own, you will have a dental team at your disposal to direct your questions to, and you can receive professional, custom advice based on your unique preferences and needs.
Will teeth whitening treatments make my teeth sensitive?
Teeth whitening can sometimes cause temporary tooth sensitivity, especially for patients who already have sensitive teeth. Fortunately, sensitivity caused by teeth whitening treatments only lasts for a few days on average. If you are worried about experiencing discomfort post-whitening treatment, we recommend avoiding very hot and cold foods and drinks and very rich desserts for a few days, as these things can exacerbate tooth sensitivity. Switching to a toothpaste for sensitive teeth can also help keep sensitivity at bay.
Is professional teeth whitening expensive?
Professional teeth whitening treatments that you receive from your primary dental care provider will most likely be more of a financial investment than store-bought teeth whitening, but it is a more budget-friendly cosmetic option compared to veneers or orthodontics. If you are interested in scheduling a teeth whitening treatment with our team, we would be happy to help you find an affordable financing option to cover the cost of your care. While teeth whitening is not usually covered by dental insurance, flexible financing options like CareCredit™ can be used to divide the cost of your services into monthly manageable payments.
Learn More
Contact
Magnolia Family Dental
in Alvin, TX!
Have a question for us? Need to request an appointment? Our team would love to help. Feel free to fill out our virtual contact form, and someone in our office will get in touch with you as soon as possible, usually within one business day.
For immediate assistance, please call our office at 713-526-4576.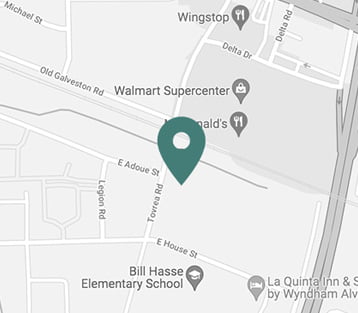 Address
535 Tovrea Road, Ste. 104, Alvin, TX 77511
Phone 713-526-4576 Fax 281-824-4078
Hours
Monday: 9am-6pm, Tuesday: Closed, Wednesday: 9am-6pm,
Thursday: Closed, Friday: 9am-4pm, Saturday: 9am-1pm*

*2nd and 4th Saturday of the month
$49
New Patient
Exam & X-Rays
New patients only. Call for details!