Dental Implant Restorations

in Alvin, TX!

Dental implants are a great restorative treatment option for patients who need to replace their missing teeth. Magnolia Family Dental offers implant restorations for patients who have one or more dental implants that need to be repaired, and we'd be happy to assess your implants and restore them back to their original condition. Contact our office today!
Contact Us
Can dental implants be repaired?
While dental implants are sturdy, long-lasting dental restorations, it's not uncommon to need a dental implant modified or replaced, especially if your implant is on the older side. Usually, when an implant needs to be repaired, the crown is what needs restoration and not the titanium implant itself. If your implant ever feels loose, however, please contact our office so we can assess the situation. Likewise, if your implant crown ever breaks or appears worn down or damaged in any way, our team will want to take a look to see if it needs to be restored.
What are the signs of dental implant failure?
Patients are carefully evaluated and approved for dental implant placement before their procedure occurs, which is why the implant failure rate is only around 1%. A common sign that an implant has failed to fuse with the jawbone properly is when it feels loose in the jawbone, and this usually occurs within the first few months of receiving an implant. Other signs of implant failure include pain or gum recession around the implant, gum swelling, and difficulty biting down and eating. If something doesn't feel quite right, we recommend scheduling a quick visit with our team.
How long do dental implants typically last?
Implants are known for their longevity, and it's a benefit that often leads to patients choosing dental implants over other tooth replacement alternatives. Implant crowns tend to last an average of 10 to 15 years before they need to be replaced, which is a similar estimate for crowns that are placed over natural teeth. The best way to ensure that your implant lasts for as long as possible is by practicing great oral hygiene at home and visiting our office regularly for checkups and preventive dental care. Want to learn more about dental implant restorations and our other restorative procedures? Please contact us!
Contact
Magnolia Family Dental
in Alvin, TX!
Have a question for us? Need to request an appointment? Our team would love to help. Feel free to fill out our virtual contact form, and someone in our office will get in touch with you as soon as possible, usually within one business day.
For immediate assistance, please call our office at 713-526-4576.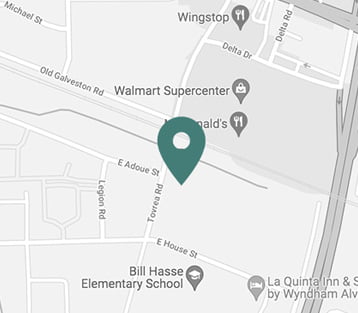 Address
535 Tovrea Road, Ste. 104, Alvin, TX 77511
Phone 713-526-4576 Fax 281-824-4078
Hours
Monday: 9am-6pm, Tuesday: Closed, Wednesday: 9am-6pm,
Thursday: Closed, Friday: 9am-4pm, Saturday: 9am-1pm*

*2nd and 4th Saturday of the month
$49
New Patient
Exam & X-Rays
New patients only. Call for details!