Sedation Dentistry

in Alvin, TX!

Avoiding dental appointments due to anxiety or fear can result in consequences for your oral health. At Magnolia Family Dental, we want to help you get the care you need without the nerves or dental anxiety! Our dental sedation service can help you calmly and comfortably receive dental treatments. We even offer IV sedation for patients with anxiety that works almost immediately once administered. If you would like to learn more about making your dental visits more comfortable, contact our office today!
Learn More
What is Sedation Dentistry?
Sedation dentistry allows us to provide patients with dental anxiety or undergoing extensive procedures with high-quality care. It can be administered through nitrous oxide, oral, or IV sedation. Each type of therapy fits levels of different needs. IV is administered directly into the bloodstream for deep sedation and instantly helps patients feel comfortable and at ease.
How Safe is Sedation?
When sedation is administered by experienced professionals, like members of our Magnolia Family Dental team, it is safe and effective. Before and during dental sedation, our dental team will monitor your vital signs to ensure you're receiving the proper dose and reacting as expected. It can solve the fear of procedures, difficulty with local anesthesia, gag reflex, pain tolerance, and discomfort!
How Can I Prepare for Dental Sedation?
If receiving sedation therapy, you will need a companion to drive you to and from your appointment. To help you be best prepared, we will provide specific instructions before your treatment. Typically, comfortable clothing, what and when you can eat, and what to expect after dental sedation will be discussed. When you're in the chair, we walk you through techniques that can help you as we administer sedation therapy without you even noticing!
Contact
Magnolia Family Dental
in Alvin, TX!
Have a question for us? Need to request an appointment? Our team would love to help. Feel free to fill out our virtual contact form, and someone in our office will get in touch with you as soon as possible, usually within one business day.
For immediate assistance, please call our office at 713-526-4576.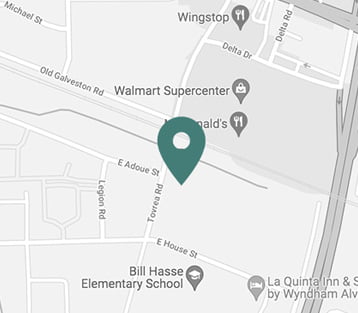 Address
535 Tovrea Road, Ste. 104, Alvin, TX 77511
Phone 713-526-4576 Fax 281-824-4078
Hours
Monday: 9am-6pm, Tuesday: Closed, Wednesday: 9am-6pm,
Thursday: Closed, Friday: 9am-4pm, Saturday: 9am-1pm*

*2nd and 4th Saturday of the month
$49
New Patient
Exam & X-Rays
New patients only. Call for details!