Dental Veneers

in Alvin, TX!

Porcelain veneers are the ideal option for patients who wish to correct multiple cosmetic imperfections. Magnolia Family Dental offers custom veneers for patients who think twice before smiling due to cracked, stained, or misshapen teeth. Schedule a consultation with our team to learn more about porcelain veneers and decide if this cosmetic dentistry treatment will suit your smile!
Contact Us
Am I a candidate for veneers?
Dental veneers can quickly and effectively bond to the front surface of your teeth to improve their appearance. While patients may assume that anyone looking to mask dental imperfections is a good candidate, that isn't always the case! Before embarking on the cosmetic dentistry treatment, our team will evaluate your overall oral health. A candidate for dental veneers should be cavity-free and have no signs of periodontal disease or any other oral health condition that may interfere with treatment.
How long do porcelain veneers last?
Besides providing a quick transformation, they provide a long-lasting one. On average, porcelain veneers can last anywhere up to 10 years. Though they do not require special care besides routine brushing, flossing, and dental visits, there are some precautions that can help them last longer. Avoiding staining foods and drinks, hard and crunchy foods, and bad habits like nail biting can encourage your veneers to look pristine.
What are the advantages of veneers?
Veneers fix discolored teeth, broken teeth, crooked teeth, and gaps between teeth all while blending in with your natural teeth. While a major concern of patients is fixing the appearance of their smile, dental veneers also have several other advantages! The advantages of choosing porcelain veneers as a cosmetic dentistry treatment include quick treatment, durability, minimally invasive, and realistic results! Want to see if you can enjoy these advantages? Please contact us!
Contact
Magnolia Family Dental
in Alvin, TX!
Have a question for us? Need to request an appointment? Our team would love to help. Feel free to fill out our virtual contact form, and someone in our office will get in touch with you as soon as possible, usually within one business day.
For immediate assistance, please call our office at 713-526-4576.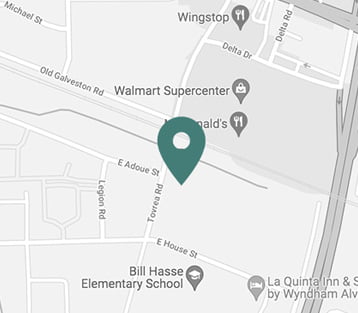 Address
535 Tovrea Road, Ste. 104, Alvin, TX 77511
Phone 713-526-4576 Fax 281-824-4078
Hours
Monday: 9am-6pm, Tuesday: Closed, Wednesday: 9am-6pm,
Thursday: Closed, Friday: 9am-4pm, Saturday: 9am-1pm*

*2nd and 4th Saturday of the month
$49
New Patient
Exam & X-Rays
New patients only. Call for details!