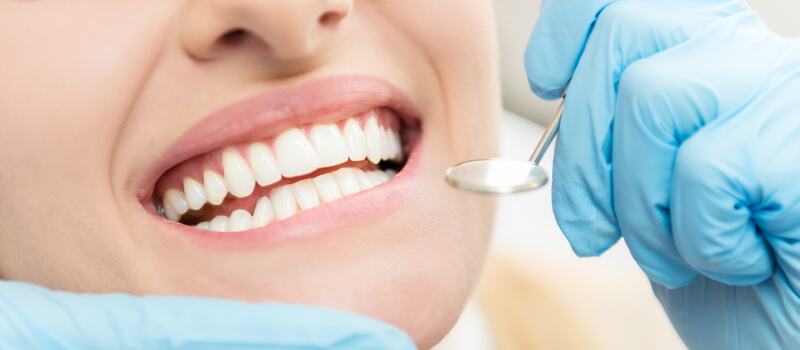 Importance of Regular Dental Visits
May 7, 2022 4:05 pm
---
Preventive dental care is essential for maintaining a healthy and beautiful smile. Have you scheduled and/or attended two routine dental visits this year? The American Dental Association recommends that patients visit their dentist for a professional teeth cleaning and exam at least twice per year.
Professional Teeth Cleanings
Regular cleaning of your mouth at home and at the dentist will reduce your risk of bad breath and dental disease. You should brush your teeth twice a day for two minutes each time and floss at least once a day to remove bacteria buildup (called plaque) and food particles from your teeth and gums. Bacteria in plaque consume your dietary sugar and produce toxins that cause tooth decay and gum disease.
During a professional teeth cleaning, a trained dental hygienist will use special tools and floss to remove plaque that has collected in difficult-to-reach areas, check your gum health, and polish your teeth. They will also remove tartar, which is hardened plaque that is tightly adhered to teeth.
Dental Checkups
Before and during your cleaning, your hygienist will ask you questions about your dental health, oral hygiene, and any changes you may have noticed since your last visit. They will make a note of anything they believe the dentist should take a closer look at. Then, Dr. Marteeny will examine your teeth, gums, and mouth for signs of potential dental issues like cavities, gum disease, and oral cancer.
Scheduling routine preventive care allows our team to diagnose dental issues as quickly as possible. When a dental problem is diagnosed and treated early on, it prevents it from becoming more severe and possibly causing irreversible damage. Less invasive and more affordable treatment options may be able to be used as well, leading to a more comfortable and cost-effective experience. These visits are also a perfect time to ask your dental team any questions related to your dental health and oral health habits.
Ready to schedule your next preventive care visit at Magnolia Family Dental in Alvin? We'd be delighted to see you at our comfortable, family-friendly office! We offer comprehensive dentistry for patients of all ages. Please contact us today.
Categorised in: Preventive Dental Care